5 August, 2020
Niamat-E-Muglai (Curries)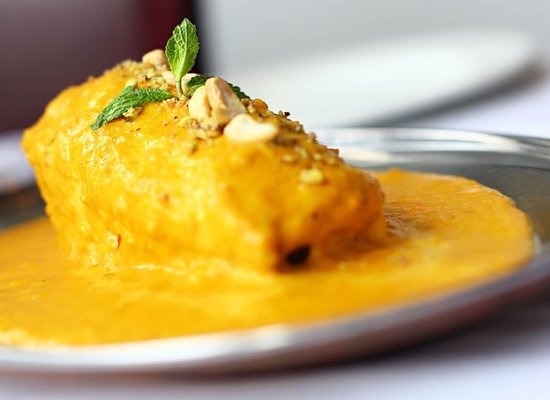 Posted in :
Menu
on
by :
Biryani House
1. Murgh Khas Avadh
A Mughlai delicacy from Lucknow. Boneless 8 oz chicken breast stuffed with a combination of cottage cheese, chopped onion and black cumin, stewed in yogurt and cream. Served garnished with chopped almonds and saffron. (Chef Recommends with Kashmiri Naan.)
2. Noorjahani Butter Chicken/Chicken Tikka Masala
A culinary delight which was served to the Munghal Badshahs. Favourite of all, boneless tandoori chicken cooked in tomato creamy sauce. Tandoori Tikka cooked with fresh vegetables, home made yogurt, saffron and exotic masala sauce. Garnished with whole green chilli. (Chef Recommends with Saada Naan)
3. Madras Chicken/Chicken Vindaloo
Curried chicken, sauteed with poppy seeds, curry leaves and coconut with a touch of fenugreek seeds. (Chef Recommends with Saada Chawal and Naan)
4. Chicken Lababdar
Boneless chicken in rich tomatoes, onion-based sauce with touch of butter and coriander.
5. Calcutta Street-Style Chilli Chicken
A chicken meal with difference. Spicy dry fried boneless white breast cubes, stewed in smooth tomato and hot chilli sauce with crushed peppercorns. Garnished with sweet red and green peppers. (Chef Recommends with Saada Chawal)
6. Qorma-E-Channdi
A delicacy of a cardamom flavoured 5 to 6 inch lamb shank, which 'glows' like chaandi or silver. It has a thick 'white' gravy that is cooked with turmeric and garnished with fresh spring mint and cherry.
(Chef Recommends with Kashmiri Naan/Pullao)
7. Gosht Nizami
a 5 to 6 inch lamb shank browned and stewed in a gravy of yogurt, tomato and a secret blend spices handed down from the time of the Great Mughals. Garnished with cilantro. (Chef Recommends with Pullao Rice)
8. Sultaani Chaap
A Hyderabadi delicacy of 3 pieces of rack of lamb marinated in freshly ground ginger, mint-lemon juice and barbecued. Finished with light gravy, flambeyed with rum and garnished with Sultana raisins and red pepper. Chef Recommends with Tendoori roti)
9. Lamb/Beef Vindaloo
Chunks of lean lamb meat cooked in hot and sour combination with selected Goan spices. Garnished with scoop pototoes and butter chilli. (Chef Recommends with Saada Chawal)
10. Bhuna Gosht/Chicken/Lamb/Goat/Beef
Traditional way of cooking with fresh ginger, garlic, onions, tomato with Indian herbs and spices.
11. Lamb/Beef Saag Punjabi Special
Chunks of lamb or beef cooked in mildly spiced, fresh spinach with fenugreek leaves. (Chef Recommends with Saada Chawal)